Posts
Dominant Cycle Update for Gold and Silver - Price and Sentiment…
https://www.whentotrade.com/wp-content/uploads/2014/11/SilverCoinsBullionBars.jpg
1025
1600
LvT
https://www.whentotrade.com/wordpress/wp-content/uploads/2013/04/wttlogo5.png
LvT
2016-03-08 19:59:48
2016-04-05 19:03:33
Gold & Silver Cycle Update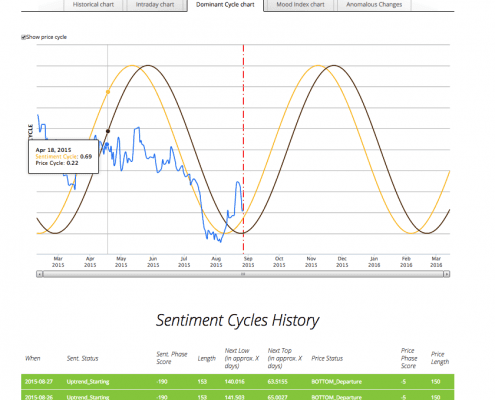 Please also read the full article sentiment bulletin…
https://www.whentotrade.com/wp-content/uploads/2015/08/Screen-Shot-2015-08-28-at-12.42.12-PM.png
1242
840
LvT
https://www.whentotrade.com/wordpress/wp-content/uploads/2013/04/wttlogo5.png
LvT
2015-08-29 10:38:39
2018-05-05 11:10:35
Gold / Silver: ** No Comment ** Cycle and Sentiment Charts Update
Social media has become important for online communication among market participants. This article demonstrates how social media sentiment can be used to predict financial cycles.
https://www.whentotrade.com/wp-content/uploads/2015/02/smchatter.jpg
176
203
LvT
https://www.whentotrade.com/wordpress/wp-content/uploads/2013/04/wttlogo5.png
LvT
2015-02-21 19:55:27
2017-04-09 14:07:13
Trading Social Media Sentiment Cycles
Using sentiment data from PsychSignal to detect dominant cycles in the silver market.
https://www.whentotrade.com/wp-content/uploads/2014/11/SilverCoinsBullionBars.jpg
1025
1600
LvT
https://www.whentotrade.com/wordpress/wp-content/uploads/2013/04/wttlogo5.png
LvT
2014-11-17 13:47:51
2016-04-05 19:04:43
Silver Market & Sentiment Cycles using PsychSignal